Henry Eshelman Managing Director
A practitioner as well as strategist, PMG founder and Managing Director Henry Eshelman positively reinforces the concept of what it means to be a boutique: to match large company experience and skills with personal attention. In his ten years at the helm of PMG, Eshelman has led the development of the company, responsible for client service, business development, standards and practices, media outreach, technology, pro bono service to deserving causes and agency visibility.
Eshelman formerly served as Managing Director of B|W|R Public Relations and as Entertainment Practice Head of Ogilvy Public Relations Worldwide where, over eighteen years, he supervised accounts and team sin the filmed entertainment, consumer, corporate entertainment and technology areas. Before that, he served as a creative director at large, developing branding campaigns for films, talent and restaurants as well as for nightclubs such as Area, Palladium and Studio 54.
Mark Rabinowitz Account Director
A veteran writer-editor and co-founder of the seminal independent film news service IndieWire.com, Rabinowitz has been part of the PMG team since January 2014. His duties include leading the creation of PMG's editorial materials, as well as spearheading PMG's new film festival, sales and distribution consulting services.
In addition to his work at PMG, Rabinowitz is head of acquisitions for Iceland-based Isold Film & TV Financing, serves on the Louisville Film Commission and was head documentary programmer for the Oxford (MS) Film Festival from 2015-18. He has been a journalist, producer and acquisitions/production consultant since 1995 and has attended dover 150 film festivals, including Sundance, Cannes and Berlin, serving on juries at the Edinburgh International, Denver and Nashville Film Festivals. As a producer, he is partnering with Darren Dean (Tangerine, Kinyarwanda) on an adaptation of Will Eisner's landmark graphic novel, A Contract With God.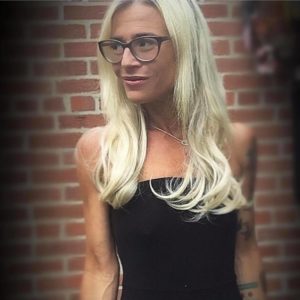 Lucy Rendler-Kaplan Digital Media Director
Lucy Rendler-Kaplan is a seasoned marketing and communications professional with an extensive background in CPG food/beverage, entertainment, lifestyle and digital marketing. She brings her love of brand storytelling and thoughtful engagement to the little Instagram squares. Lucy has worked for a variety of beloved brands and thrives when working with startups and small businesses. She loves a properly executed influencer campaign (with a true ROI!), outside the box strategies and tactics and creative copywriting. On the rare times she's not in front of a screen, you can find her exploring the city with her rescue pup Charlie, poring over the latest Packers news, badly crafting DIY projects or baking something sweet.
Saeli Eshelman
Staff Writer
Saeli Eshelman is a 2016 graduate of UC Santa Cruz, with degrees in Politics and History of Art & Visual Culture. She is a passionate pursuer of all things cultural: art, music, fashion, food and nightlife. A Los Angeles native, she returned home for a year before moving to New York City, where she is currently based in.
An experienced videographer and editor, Saeli produces EPK's for PMG's film clients and is an editor of the Knitting Factory Newsletter. She was also a frequent contributor to the pan-college publication The Odyssey, as well as Entity Magazine, a national culture publication base din Southern Callifornia. She divides her time between PMG and working as an associate manager at vintage and recycled apparel company Buffalo Exchange.
Victoria Miller Controller
Victoria Miller manages the business operations of PMG. Miller worked as a talent publicist at Levine/Schneider PR and entertainment industry powerhouse B|W|R before striking out on her own, where she represented talent ranging from Amanda Donohoe to Jimmy Choo.
She then took a turn, leaving PR behind to become a Kundalini Yoga teacher. Victoria completed the KRI (Kundalini Research Institute) 200-hour Teacher's Training Course in 2003, and alongside her teaching practice has continued her education as a student with workshops and retreats, and even recently earned certification as a Rake practitioner.
Currently, Victoria teaches Prenatal and Mommy and Me Yoga, as well as general Kundalini Yoga classes for all levels of students in Los Angeles. Teaching by example, her classes are physical, healing, musical, uplifting and are conducted in a supportive environment where students can dedicate themselves to their own individual practice and awakening.